Friendly Kindergarten (Malay: Tadika Mesra) is the place where Upin and Ipin receive their early education. It is located at Kampung Durian Runtuh. It was first seen in "Kindergarten" episode, the second season opener of Upin & Ipin: A Year Later.
Kindergarten located in the countryside consists of only four classrooms, that is Aman, Bakti (formerly Bahagia), Ceria and Damai. On this kindergarten logo there are four smile faces (which symbolizes the four classes) that surrounded the purple shield with a sunflower diagram and a book.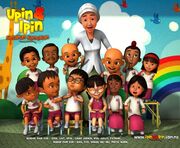 Here are the Aman class students taught by Teacher Jasmin/Teacher Melati (a total of 12 people).
Former student
Edit