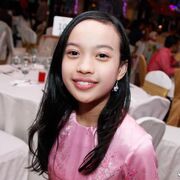 Asyiela Putri binti Azhar
(lahir 27 April 2000
[1]
) merupakan seorang pelakon suara kanak-kanak yang menyumbangkan watak Upin dan Ipin dalam siri animasi
Upin & Ipin
, menggantikan
Nur Fathiah Diaz
mulai musim keempat hingga sekarang.
Asyiela turut terkenal dengan bakat nyanyian dengan meminjamkan suaranya ke dalam album Seronoknya Raya Bersama Upin & Ipin yang diterbitkan pada musim Aidilfitri tahun 2011, serta menyanyi dengan memegang watak Upin & Ipin bersama Najwa Latif untuk lagu "Terima Kasih Cikgu" pada tahun 2012.
References
Edit
External links
Edit
Ad blocker interference detected!
Wikia is a free-to-use site that makes money from advertising. We have a modified experience for viewers using ad blockers

Wikia is not accessible if you've made further modifications. Remove the custom ad blocker rule(s) and the page will load as expected.